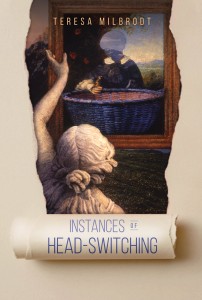 A middle school teacher relies on eight interchangeable heads to cope with her job. A woman tries to negotiate life with her arthritis witch and her boyfriend's seizure elf. The Germanic goddess Berchta, tired of being a fearsome hag, shows up in a woman's apartment wanting to be flat-mates.
In the fictional worlds depicted in Instances of Head-Switching, sphinxes are kept as pets, unicorns are raised on ranches, and Sisyphus has escaped from Hades and is happily working as a bagger at a grocery store. But characters still struggle to pay bills, deal with cranky customers and bosses, and navigate life with partial vision, limited mobility, and chronic diseases.
Focusing on themes of embodiment, disability, and economic insecurity, Teresa Milbrodt offers witty and inventive tales full of compassion for her cash-strapped, hard-luck characters. The collection includes stories originally published in Guernica, Strange Horizons, PANK, and other journals.
Cover design: Whitney Pearce
Cover art: Negative Capability by M.M. Dupay, © 2006 by M.M. Dupay, mmdupay.com.